Pep Guardiola demanded a guard of honour from his players and staff to mark Erling Haaland's Premier League goal record – to show the striker just how special an achievement it is.
Haaland's finish in a 3-0 win over West Ham means he now has 35 league goals for the season.
He has passed the record previously shared by Alan Shearer and Andy Cole.
"When there is a special occasion, we have to show how special it is," said Guardiola.
Haaland's sublime chip over Lukasz Fabianski from Jack Grealish's through ball took him to 51 goals for the season in all competitions, 12 away from matching Dixie Dean's all-time best for goals in an English season.
All the Norwegian's team-mates, plus Guardiola and his backroom team, lined up to acknowledge Haaland as he made his way to the dressing room.
"He is a joy," Guardiola said. "Everyone is happy to have him with us. This record will be broken sooner or later, maybe by him in the future, because he will score a lot of goals. But Andy Cole and Alan Shearer are incredible strikers and I think he deserved it."
Haaland laughed the guard of honour was "painful", telling Sky Sports: "Everyone hit me on the back."
He also tried to deflect the personal accolades, agreeing he would swap all his goals for the Treble that City are currently chasing – of Premier League, Champions League and FA Cup.
"Everyone knows it's possible, but we cannot think about Manchester United in the FA Cup final now," he said.
And instead of thinking about Dean's record, Haaland said he was going home to play video games that were "too embarrassing" to name.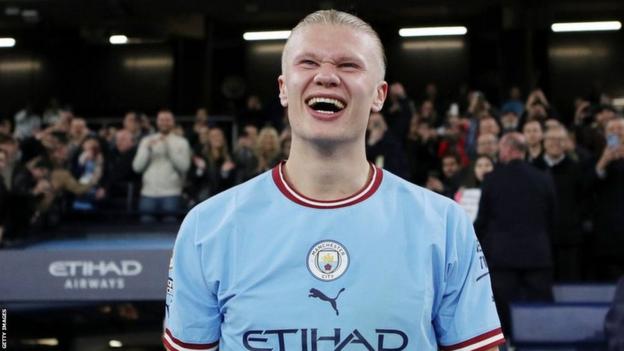 Lethal Haaland is an ever-present threat
Haaland talked through the execution of his latest goal without making it appear it was that special.
"It was the perfect bounce as I chip the ball," he said. "I didn't think of it, but then it was there so I did."
It was Guardiola who underlined the obvious danger Haaland poses when he started to run through his repertoire.
The striker's City scoring spree actually began against West Ham back in August, with two goals in a 2-0 win on the Premier League's opening weekend.
"He understands what we want to do," he said. "The players understand his movement. With those first two goals against West Ham, immediately we saw he is a guy who, when you provide him with the ball, he scores in all situations, from crosses, penalties, combinations, transitions."
It all seems a world away from the Community Shield against Liverpool at the end of July, when Haaland had 16 touches and "looked lost" according to one media observer.
"I remember when we lost against Liverpool in the Community Shield, people said he will not adapt in the Premier League," said Guardiola. "As journalists, you encourage incredible comments."
He started scoring at London Stadium the following weekend and has barely stopped since.
And, with a meeting with Real Madrid looming in the Champions League on 10 May, Guardiola underlined why he is so happy to have the 22-year-old.
"We cannot achieve if the club does not provide us with top quality players up front," he said. "It's not possible.
"This club had a legend in Sergio Aguero and Gabriel Jesus, an incredible worker. I was not here but [Edin] Dzeko, [Mario] Balotelli were top strikers.
"In the first half, he was not involved much but he didn't become desperate and anxious and nervous. He was calm."